eBaoTech Receives 'Technology Provider of the Year for Agents' Award
July 13, 2017
SINGAPORE, July 13, 2017 — eBaoTech Corporation, a leading digital solutions provider for the global insurance industry has been named 'The Technology Provider of the Year for Agents' at The 2nd Asia Trusted Life Agents & Advisers Awards held on July 12 2017, Singapore, which was to honor the very best in Asia's life insurance industry.
12 winners from seven countries sweep the 2nd Asia Trusted Life Agents & Advisers Awards, including Technology Provider of the Year for Agents, Insurance Company of the Year for Agents, Insurance Agent of the Year, Rookie Insurance Agent of the Year, Agent/Agency CSR Initiative of the Year, etc. Competition for the Awards was stiff with some 350 entries whittled down to about 50 finalists, by a panel of 23 distinguished judges from the region's life market. At the second stage of judging, the judges reviewed video clips from the finalists and selected the winners in a secret ballot held in Hong Kong in May. The region was well represented across winners, with individual and corporate champions coming from seven markets—China, India, Malaysia, Vietnam, Hong Kong, Thailand and Singapore. For more information on the awards and the winners, visit www.asiainsurancereview.com/asialifeawards.
eBaoTech was awarded with its innovative digital solution, eBaoCloud for Mobile Advisors. eBaoCloud shows strong advantages in terms of technology and functionality and has success cases in nearly 10 countries since its launch two years ago.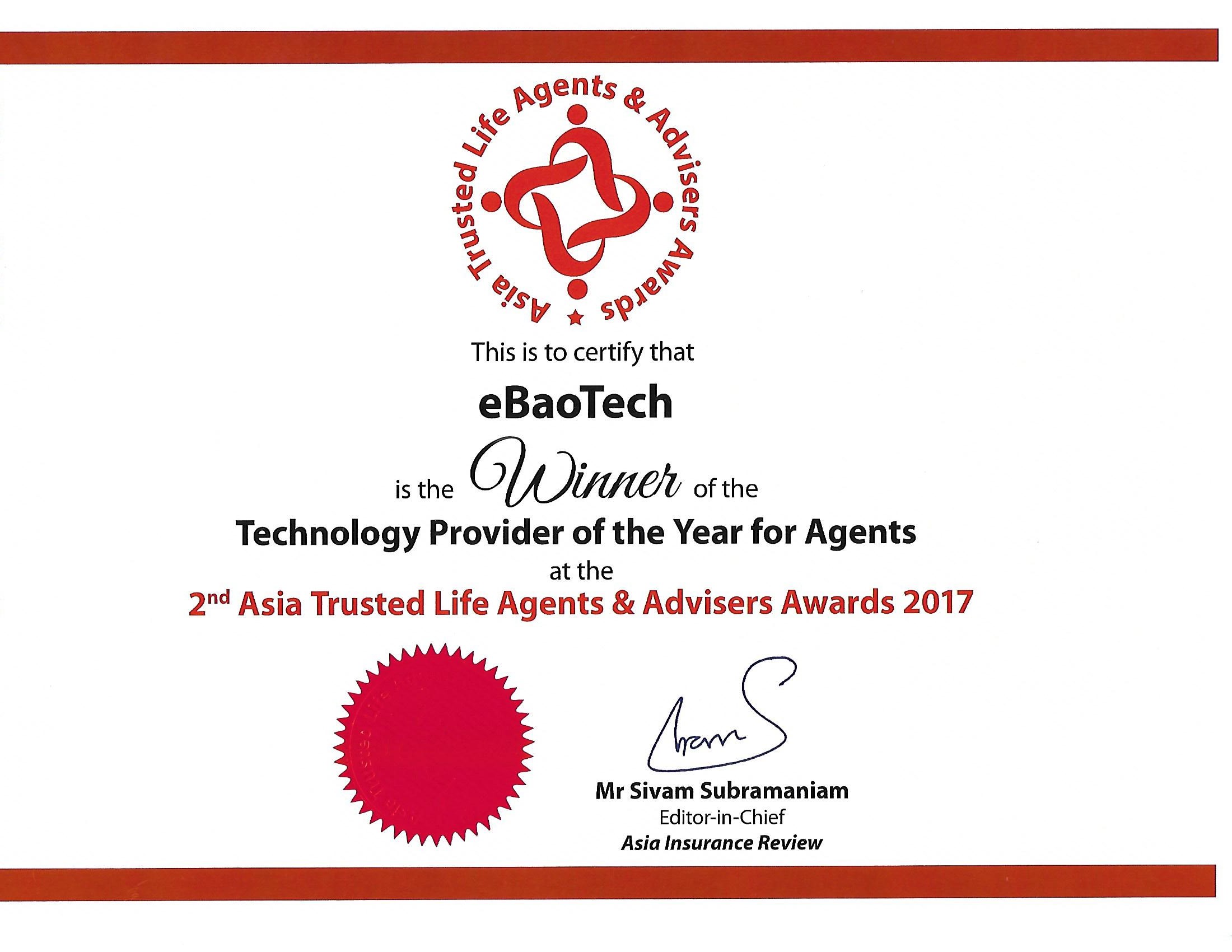 Based on native cloud architecture, eBaoCloud is an open API platform that bridges insurance to the vast external ecosystems of the internet. With eBaoCloud, insurance brokers and agents will be able to go fully digital on mobile, with comprehensive set of sales and services tools on a mobile app and selling insurance combos from multiple insurers. Some sample broker/agency users of eBaoCloud are China's biggest independent broker – Datong, China's largest car dealer – Grand Auto, Australia-based underwriting agency – Tego, and so on.
About eBaoTech
eBaoTech's mission is "make insurance easy". Since its founding in year 2000, eBaoTech has grown fast and today has business in more than 30 countries globally, serving more than a hundred carriers and numerous agents, brokers, and other ecosystem players. Digital insurance is the coming wave. In eBaoTech view, digital insurance means connected insurance. To enable connected insurance, eBaoTech offers two groups of solutions: eBao Cloud and eBao Software.
eBao Cloud is an Open API platform to provide real connectivity and enablement for insurers, traditional channels, affinity partners, and FinTech startups. eBao Software mainly include core system suites for life, general, and health insurers as well re-insurers. For more information, please visit www.ebaotech.com